In the 21st century, the Welsh celebrate Christmas in the same manner as their English neighbors, but there are lingering traces of the old days in some distinctive holiday traditions.
Caroling is particularly popular in Wales where it is called eisteddfodde and is often accompanied by a harp. Every village has its own choir of trained singers and everyone else joins in. Each year an official set of words for a new Christmas carol is distributed to all the towns, and all vie with each other in creating the best music, which is judged in a national competition. The winning tune will be sung the following Christmas season by all the choirs and will become part of the great body of carols produced since the custom began in the tenth century.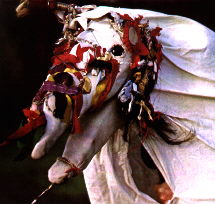 In many areas a person is chosen to be the Mari Lwyd which means "Grey Mare." The Mari Lwyd leads a group of mummers in travels around the city or town, usually to celebrate the arrival of the New Year. He is draped in grey-white and carries a ribbon bedecked horse's skull on a long pole. Anyone given the "bite" by the horse's jaws must pay a fine. The mummers visit previously selected houses where they bang loudly on the door with a stick and sing out impromptu verses. Eventually they are invited in for cakes and cider.
In rural areas where old traditions remain steadfast, the main Christmas service is called Plygain and lasts from 4 a.m. until the rising of the sun on Christmas morning. Carols were sung by individuals, trios, quartets, and choirs. This candlelight service was a popular tradition in olden times but was discontinued in the 19th century. The service was revived in recent years by Methodist chapels.
One chilling tradition is the annual "Christmas Swim" conducted by the hardy folk of Porthcawl on the South Wales Coast.
It's traditional to take down the Christmas greenery and remove the remnants of the Yule log from the fireplace on Twelfth Night (January 5). The log's ashes are often planted with the spring crops to ensure fertility.
(Thanks to Harry Hayfield, of Ceredigion, for updates to this page.)

Music: Deck the Halls


---
© 1999-2001 by W. C. Egan
---