UKRAINE is in Eastern Europe, bordering the Black Sea, with Russia to the east, Belarus to the north, and Poland, Slovakia, Hungary, Romania, and Moldova to the west and south west.
The birth of Christ is celebrated in Ukraine with a rich blend of Eastern Orthodox and age-old agrarian customs.
This joyous time is called NATIVITY, and is commemorated, according to the Civil or Papal (Gregorian) Calendar, beginning after sunset January 6th; which on the (Julian)ancient Apostolic Church Kalendar is the morning of December 25th.
The proper greeting is "Christ is Born!", and the response people give is "Glorify Him!".
Gift giving takes place in early December, the feast of St. Nicholas; so that the celebration of The Holy Nativity remains firmly focused on its spiritual origin.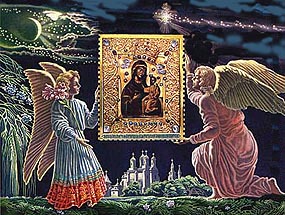 On the eve of the Nativity, they end a day of fasting with Sviata Vechera, or Holy Supper. Combining agrarian symbols and Christian symbols, twelve dishes are served which represent the twelve disciples and the cycles of the moon. The twelve dishes also represent the most valuable products of the field, garden, and orchard. There is no meat or milk served with the meal as a sign of respect for the farm animals that are depended upon all year long.

Prior to the meal, a sheaf of wheat, didukh, is tied in the middle with beautifully embroidered ribbons and brought into the house by the father or head of the household. He walks around the inside of the home three times and then places the wheat in a corner of the kitchen or dining room near the family's holy icon. There it remains throughout the Nativity season. This sheaf represents the entire family including departed ancestors and the generations to come. The souls of the family are thought to be in the sheaf and it represents both the Christian belief in an afterlife and the bountiful fertility of the land.
Hay is spread on the floor as a reminder of the manger. A special cloth covers a small table, on which is placed a kolach (bread) with a lit candle; to remind us that Christ is the "Bread of Life", and the "Light of the World".
The Feast of Nativity lasts for six days. The holiday season concludes January 27 (civil calendar, 14 January on the Old Kalendar).
---
© 2000-2002 by W. C. Egan
---