CHRISTMAS
in
PORTUGAL
by
Bill Egan,
Christmas Historian

Portugal is located in southwestern Europe, bordering the North Atlantic Ocean, west of Spain.
Christmas in Portugal is celebrated in nearly the same way as it is in other Latin nations; decorating the home, attending religious services and setting up the Nativity scene or presépio. In recent years, the Portuguese have adopted the Christmas tree, both real and artificial, as part of their annual celebration.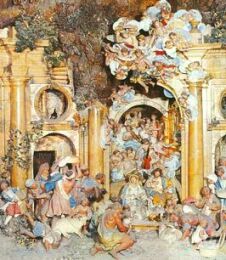 On Christmas Eve, the family gathers around the tree as they wait for midnight to attend a special Mass, called Missa do Galo (Rooster´s Mass). After leaving the church, they return home for a meal of boiled dry codfish with potatoes and Portuguese sprouts, in pure olive oil. Red wine accomapnies the meal. The children receive their presents in the early morning. In some areas Santa Claus delivers the gifts, while the Christ Child delivers the gifts in other areas. Beginning on Christmas Eve, the fogueira da consoada (Yule log) burns in the hearth and in the churchyards. The family preserves the ashes and charred remains of the log and sprinkle them in the fireplace during thunderstorms; it is believed no lightning bolt will strike near the Yule log's ashes.
The souls of the dead, known as alminhas a penar, are welcomed on Christmas. Crumbs are scattered for them on the hearth. In ancient times, seeds were left out for the dead so they could return with fruits and grains from the other world at harvest time.
The holiday season ends on January 6 with the eating of the Bolo-rei (Kings Cake). Like all other Epiphany cakes, it has a small surprise baked into it - a bean. The person who finds the bean in his/her slice of cake must pay for the cake at the next celebration.
---
© 2001 by W. C. Egan
---