Christmas in Peru
by Bill Egan, Christmas Historian
PERU is on the west coast of South America, bordering the South Pacific Ocean, with Ecuador to the north and Chile to the south. Colombia, Brazil and Bolivia are to the east.
Christmas celebrations in Peru are a combination of traditions brought over from Spain and the traditions of the native American experience. There are parties and fiestas everywhere and homes are overflowing with hospitality. Homes and churches are decorated with Christmas colors, bows, and wreaths and the open air Christmas markets are bustling with venders and customers shopping for bargins in the summer sunshine.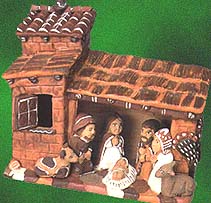 Manger scenes in Peru are often carved from wood or soapstone by the Quechua Indians. The figures are usually wearing clothing styles from the time of the conquistadores and the carving techniques date to the sixteenth century. Additional figures are added to the scene each year until they become large displays complete with landscapes and backgrounds. The three kings arrive with a train of llamas and you will also find local characters such as the jasmine vender, the tamale vender, the baker, the ice-cream man, the ironer of the Child's diapers...and many, many more. Some homes with elaborite nativities have an open house so that neighbors can visit.
There are other smaller nativity scenes of baked clay (see photo) while some mini scenes are fitted into matchbox size displays.
Noche Buena is the "Good Night" when Santa comes to fill the stockings that have been placed near the manger scene. When the family returns from Midnight Mass, the figure of Baby Jesus is placed in the manger and then the children open their gifts while fireworks boom in the night sky.
The Christmas dinner in most Peruvian households features turkey as the main dish with a variety of salads along with the ever-popular tamales. Fruit cake is served for dessert.
Christmas Day festivities in Lima (where Christmas was first celebrated in 1535) are highlighted by a bullfight and a procession with the statue of the Virgin Mary. The parties, dances, and processions continue throughout Peru until January 6 when they celebrate the Epiphany with Rosca de Reyes, or the King's Ring - a round sweet bread decorated with candied fruit to look like the crown of a king.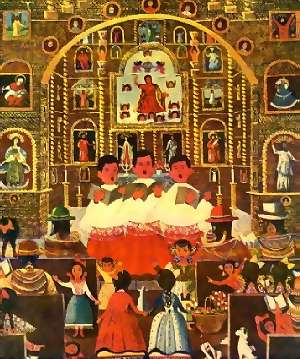 Song: Huayno Navideño


---
© 1999-2002 by W. C. Egan
---