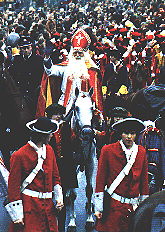 In the Netherlands, St. Nicholas is known as Sinterklaas. Dutch children are told that he comes from Spain on a steamer several weeks before his birthday, December 6.
Halfway through November there is a big spectacle when Sinterklaas completes his journey to The Netherlands. Television crews await his arrival at a port where the old steamboat docks. He is accompanied on the trip from Spain by his horse and a retinue of Moorish servants. The saintly visitor, wearing a long white beard and the robes of a medieval bishop, is welcomed by civic dignitaries and huge crowds of children with their parents as they parade through the streets while people at home in other parts of the nation watch the festivities on television.
On Sinterklass Eve, December 5, children fill their shoes with hay and sugar for Sinterklass' horse in the hopes that this will find favor with the saintly old man. Sometimes Sinterklaas actually appears in person in the children's homes, along with his assistant, Black Pete. Sinterklaas questions the children about their behavior during the past year and often asks them to recite Bible verses.
Later that night, sitting astride his handsome white horse, Sinterklaas rides over the rooftops and drops presents down the chimneys with the help of his servants. In the morning the children usually find their shoes contain a small toy or some of the sweets traditionally distributed at Sinterklaas parties in schools.
When presents are exchanged by adults, and the Dutch like to include an element of surprise. Sometimes a small gift is wrapped in a huge box, or the parcel is hidden in an unexpected place.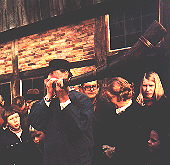 The people of Twente, Denenkamp and Ootmarsum in eastern Holland hold an Advent ceremony, midwinter-hoornblazen, in which special horns are blown to announce the coming of the Christchild. Horns are handcrafted from birch or eder saplings and are three or four feet in length. Blown over wells, they sound a deep tone, similar to a foghorn.
This origins of this tradition date back to approximately 2500 B.C. when it was believed the sound would chase away evil spirits. The horns have great carrying power. On cold, icy nights, people can hear their monotone more than three miles away. The tones receive answers from farm to farm in a joint announcement of the pending arrival of the Christmas season.
A second opportunity for gift-giving in December takes place on Christmas Eve. The Dutch enjoy wrapping presents in deceptive ways, such as a box within a box or a very small gift inside a very large box. A humorous rhyme often accompanies such a gift.
Those who are religious go to a late-night church-service (around 10 in the evening ) on Christmas Eve. The next morning a typical Christmas breakfast may include kerststol, a fruit and almond-paste bread, krentebolletjes current buns and roomboter real butter. Relatives and friends often come to visit and eat goodies during the day.
Turkey, roast pork or meat fondue is popular for dinner on Christmas Night along with sweets such as puddings, cookies in the shape of an initial, marzipan and kerstbrot, a fruity Christmas bread.

Song: Sinterklass, goed helig man


---
© 1999-2003 by W. C. Egan
---