Christmas in Kenya
by Bill Egan, Christmas Historian
Kenya is located in eastern Africa, bordering the Indian Ocean, between Somalia and Tanzania. Its other neighbors include the Sudan, Tanzania, and Ethiopia.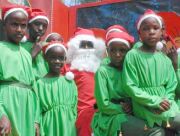 In Kenya, the churches are decorated with balloons, ribbons, flowers and green plants as well as Christmas trees. Missionary organizations provide special Christmas dinners in slum areas and at orphanages. In larger cities such as Nairobi, the commercial aspect of the season is making inroads. There you will find Father Christmas and his elves who are depicted by children from the area.
Often a group will go singing house to house, usually on Christmas eve in urban areas. The occupants of each house will give a gift of some kind (often money) to the singers, then on Christmas Day, the singers will present whatever was given to the church they attend.
It's customary to attend church on Christmas morning and everyone, especially the children, wears new clothes for the occasion.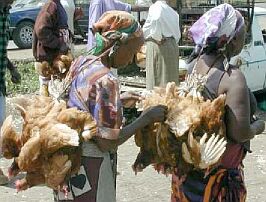 Just before Christmas, markets such as the one on Jogo Road in Nairobi are filled with people buying and selling chickens, goat, pigs and various other foodstuffs for th holidays.
Christmas dinner is often a barbecue with family members traveling from far away to be together again. In addition, neighbors drop in for a visit on Christmas day to sample the Christmas fare. A great deal of food is prepared including nyama choma, roasted meat, usually goat or beef and sometimes chicken. In addition there will be chapati, a fresh baked African flat bread. People living in the cities will also have a special Christmas cake; a treat that is not available in the villages.
---
© 2001-2002 by W. C. Egan
---