Christmas in Jamaica
by Bill Egan, Christmas Historian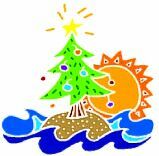 Christmas in Jamaica, an island in the Caribbean Sea, south of Cuba, has a distinctive tropical flavor ranging from the food to the Christmas carols.
Christmas carols in Jamaica are the same that are popular in other nations such as Jingle Bells, Oh Holy Night, Silent Night, etc. Of course, given the Jamaican love for Reggae, most Christmas carols can be found in their Reggae version. The traditional versions of the songs are also well known and loved and are heard on the popular stations from late November through Christmas Day.
Christmas dinner is usually a big feast for Jamaicans on Christmas Day. It includes rice and gungo peas, chicken, oxtail and curried goat. (For many years gungo peas were a Christmas specialty for Jamaica. Throughout the rest of the year red peas were cooked with the rice, but that changed to gungo peas during the Christmas season. In recent times, gungo peas are not so much confined to Christmas meals.) Jamaicans also prepare roast beef and/or pork as well. It is usually a spectacular feast, for those who can afford it of course.
In a tasty departure from North American beverages, the drink of choice for Jamaicans during the Christmas season is Sorrel. From early December until sometime in January, sorrel is all the rage in Jamaica. It is a drink worth travelling miles to get and can be found in just about every single home during the Christmas season. It's made from dried sorrel sepals (a meadow plant), cinnamon, cloves, sugar, orange peel and rum and is usually served over ice.
Christmas activities in rural areas of Jamaica include a Jonkanoo celebration. Jonkanoo is a form of parade and festivities brought from Africa by the people who were taken to Jamaica as slaves. Not as popular in the cities as it was 20 to 30 years ago, Jonkanoo is still a big deal, especially in rural Jamaica.
Thanks to Gibbo for all the information he contributed to this page.
---
© 2001-02 by W. C. Egan
---