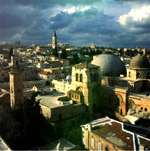 Christmas comes three times each year to the city of Bethlehem. While the Western Church and Russian Orthodox Church both celebrate Christmas on December 25, the Russian Church still uses the old Julian calendar which places their celebration on January 7 according to our calendar. The Armenian Church celebrates on January 6 by the Julian calendar, which translates as January 19 to us. To add to the confusion, our January 6 celebration of Epiphany overlaps into the Russian Christmas.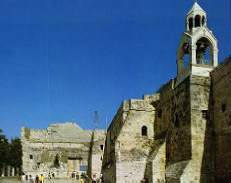 The Church of the Nativity was built by Emperor Justinian in the sixth century over the ruins of an older church built by the Emperor Constantine and his mother, St. Helena. That church had been built to replace a temple to the Greek god Adonis. All of these structures were built over a series of caves that were considered to be the location of Christ's birth.
The church was nearly destroyed by invading Persians in the seventh century, however they stopped when they came upon a mural of the Magi that depicted the Kings in Persian dress.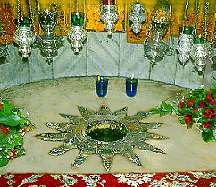 There is a fourteen-pointed silver star marking the location of the original manger. It was donated by the Turkish Sultan after a previous star had disappeared. The floor around it is marked in Latin, Hic De Virgine Maria Jesus Christus Natus Est, "Here of the Virgin Mary, Jesus Christ was born."
Christmas Eve services traditionally begin at Shepherds' Field and then move on to the church. There is room for only a few hundred people at the Mass and they are there by invitation only. Outside in Manger Square the service is broadcast on huge television screens to thousands of people who have joined together to be close to this special Christmas celebration.
---
© 2000-2001 by W. C. Egan
---