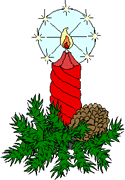 Candles, decorated with greenery, are placed in the windows of Irish homes on Christmas Eve to light the way of the Holy Family as well as any other poor travelers out on such a night. During the British occupation of all of Ireland, three candles were placed in the window at Christmas. One for the Father, one for the Son, and one for the Holy Spirit. Fellow Catholics passing by would know that the house was a Catholic home, and that all friends were welcome there to celebrate Christmas. The candles were also an invitation to priests to enter the home, say the Christmas Mass, eat dinner, and spend the night with the family.
After the evening meal, the table is set with bread and milk and the door left unlatched as a symbol of the hospitality that the family is offering to Mary and Jsoeph and the little one to come.
To the Irish, Christmas is a time for religious celebration more than revelry. A manger scene is displayed in most homes and in recent years Christmas trees have gained widespread use.
Christmas dinner in most Irish households is the most elaborate meal of the year. Preparations begin weeks in advance. Plum puddings with a liberal portion of Irish whiskey are always included in the feast. Another favorite is bread pudding, often served with butterscotch sauce.
The real star of the season is the Christmas cake which should be started in October to allow time for proper mellowing.
The Christmas shopping season in Ireland generally begins a week or two before Christmas, but some wait until Christmas Eve to do their shopping. Many Irish people purchase gifts only for members of the immediate family who are living under the same roof. The practice of giving multiple gifts for Christmas is uncommon in rural areas of Ireland. Now that times are more prosperous, there is gift buying through the Internet, too.

St. Stephen's Day is celebrated in Ireland in a different way, but is similar to Boxing Day in that it also has to do with the solicitation of money. Young men in extravagant dress, sometimes wearing masks, parade noisily through the streets in the Wren Boys' Procession. They carry long pole on top of which is attached a holly bush. The bush supposedly contains a captured wren, and for whose sake the young men beg for money.

Music: Irish Carol

---
© 1999-2006 by W. C. Egan
---