Christmas in Guyana
by Bill Egan, Christmas Historian
Guyana, a former British colony, is located in northern South America, bordering the North Atlantic Ocean, between Suriname and Venezuela. It is slightly smaller than the state of Idaho.
In Guyana, everyone decorates extensively with lots of lights for Christmas. According to tradition there is no display of decorations until Christmas Eve.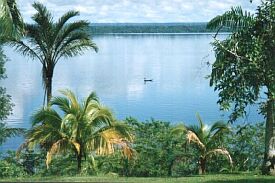 Christmas Day begins with pepperpot for breakfast; a dish made of meat stewed in a special dark sauce.
Gifts are exchanged after breakfast on Christmas day. Then there is a late lunch made up of baked chicken or turkey, stuffing, garlic pork, homemade pickled onions and numerous other delights. Desert is the famous black cake of which the main ingredients is fruit which has been soaked in wine and rum for a several months. The Christmas beverage in this warm climate is gingerbeer, mauby, or sorrel drink.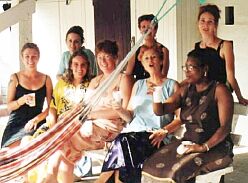 Most of the churches display nativity scenes, some of them live, and conduct several programs to celebrate the season. The days leading up to Christmas Day are filled with office and school parties. In addition to wonderful food and liquid refreshment, there is always a group who gathers to lead the partygoers in singing carols. Meanwhile various organizations sponsor parties where gifts are exchanged.
Although Guyana has faced some unfortunate situations the Christmas spirit continues. Some families, as in many other countries, cannot afford to give gifts because of financial constraints, however there are both local and international organizations working to see that nobody is forgotten during this special season.
Song: Hark! The Herald Angels Sing


---
© 2000-02 by W. C. Egan
---