Christmas in Germany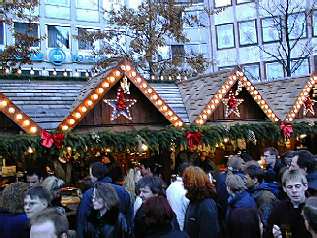 When the Christmas Markets open, that's a sign that Advent is here and Christmas is not too far off. In larger German cities, the market is open seven days a week until just before Christmas. In smaller towns, the market open on weekends.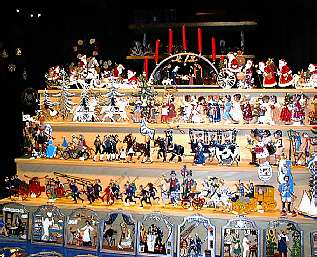 Here you can find peweter ornaments, hand-blown glass ornaments, candles, nativity figures, recorded Christmas music, fresh greens, gingerbread, sausages, and hot spiced wine.

The celebrations begin on December 6th, St. Nicholas Day.

As in many other European countries, on the eve of Dec. 6th children place a shoe or boot by the fireplace. During the night, St. Nicholas, the patron saint of children, moves from house to house carrying a "book of sins" in which all of the misdeeds of the children are written. If they have been good, he fills their shoe or boot with delicious holiday edibles. If they haven't been good, their shoe is filled with twigs.

The Weihnachtskrippe (Christmas crib) is especially popular in the southern regions of Germany. In the weeks leading up to Christmas, moss is gathered, the figures are repaired and there is serious consideration given to new additions to the landscape around the stable.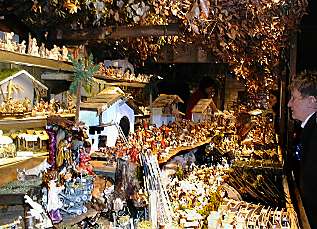 Here a Christmas Market patron looks over an array of stables, figures, wells, campfires, pushcarts, ladders, wheelbarrows, and a wide variety of stable tools.
This is all preliminary to the excitement of Christmas Eve. Prior to the evening feast, is the presentation of the tree. The Christmas tree, as we know it, originated in Germany. It has a mysterious magic for the young because they are not allowed to see it until Christmas Eve. While the children are occupied with another room (usually by Father) Mother brings out the Christmas tree and decorates it with apples, candy, nuts, cookies, cars, trains, angels, tinsel, family treasures and candles or lights. The presents are placed under the tree. Somewhere, close to the bright display are laid brilliantly decorated plates for each family member, loaded with fruits, nuts, marzipan, chocolate and biscuits. When all is ready a bell is rung as a signal for the children to enter this Christmas fantasy room. Carols are sung, sometimes sparklers are lit, the Christmas story is read and gifts are opened.
Dinner on Christmas Eve consists of dishes such as suckling pig, white sausage, macaroni salad, and many regional dishes.
Christmas Day brings with it a banquet of plump roast goose, "Christstollen" (long loaves of bread bursting with nuts, raisins, citron and dried fruit), "Lebkuchen" (spice bars), marzipan, and "Dresden Stollen" ( a moist, heavy bread filled with fruit).

Music: O Tannenbaum