Christmas in Estonia
Estonia is located in Eastern Europe, bordering the Baltic Sea and Gulf of Finland, between Latvia and Russia.
Christmas time is still the most important holiday celebrated in Estonia. For Estonians, Christmas is a mixture of the traditional, the modern, the secular, and the religious. Like in other Nordic states, Estonia's celebration of Christmas mostly falls on Christmas Eve, however Christmas season starts in Advent with people buying Advent calendars or lighting Advent candles.

In Estonian folk-tradition Christmas has a double meaning: on one hand, it is marking Christ's birth, on the other, it marks the whole period of mid-winter holidays. The magic and mysticism of ancient pagan traditions shares the season with the sacred and spiritual celebrations.
Ancient folk tales warn that wild demons ride broomsticks through the countryside in December. To prevent these beasts from playing naughty tricks on people, all brooms have to be especially clean from the first Sunday of Advent until Christmas night.
During Advent, gnomes bring candy and fruit to the children. The gift-bringer on Christmas Eve is an old man called Jouluvana.
Christmas Eve itself begins with a cleansing trip to the nearest sauna. Children are often given new clothes and shoes to wear to evening church services and the festive meal that follows.
Traditional Estonian Christmas food inclues goose or pork with Estonian sauerkraut (mulgikapsad), blood sausage, and potato salad made with red beets. Popular Christmas desserts are gingerbread, marzipan, fruit cake and cookies called Pipparkogid made from peppercorn, cocoa and cinnamon.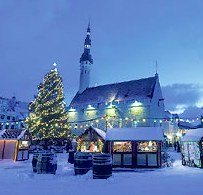 Estonia's first public Christmas tree was placed in front of the Town Hall in Tallinn in 1441, however, Christmas trees in the home didn't become popular until the 19th century.
In earlier times, the tradition of making special Christmas crowns, imitating the church chandeliers, was widespread among the Estonians. The tradition disappeared around the turn of the century and was replaced by other Christmas symbols however, there was a revival of the ancient tradition in 1970s when it became very popular to make Christmas crowns once more.
Each year on December 24 the President of Estonia declares Christmas Peace and attends a Christmas service. Declaring a Christmas Peace is a 350 year old tradition which began in the seventeenth century by order of Queen Kristina of Sweden.
Song: Let There Be Peace On Earth