Christmas in Ecuador
by Bill Egan, Christmas Historian
Colorful processions take place on Christmas Day in Ecuador as the people who live in the mountains dress in their finest clothes and ride brightly arrayed llamas down to the ranches of their employers.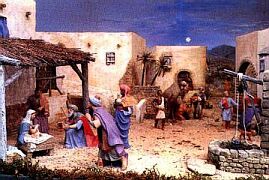 The ranch will have a presebre (manger scene) and the guests will bring gifts of fruit and produce to lay before the image of the Christ Child. Children often make speeches to the Holy Infant, asking for blessings upon their family and their livestock.
A huge outdoor fiesta will take place (it's summertime in December in Ecuador) with much singing and dancing. The ranch owners will distribute Christmas gifts to all the employees and their families.
The ranch Christmas dinner will usually consist of roast lamb, baked potatoes, and brown sugar bread. In the cities, turkey is the preferred main course.
Song: Riu Riu


---
© 2000-2003 by W. C. Egan
---