Christmas in Croatia
Croatia is located in Southeastern Europe, bordering the Adriatic Sea, between Bosnia and Herzegovina and Slovenia.
Though families in Croatia have always decorated their homes with greenery, Christmas trees are a somewhat recent addition to holiday decorations. The trees are usually decorated with cookies, fruit, nuts and candy, along with beautiful glass ornaments, colored ribbon, paper chains, lights and candles.
Various regions of Croatia have their own Christmas traditions so that there are differences in the words of the carols, stories, decorations, and Christmas food.
Straw, symbolic of Christ's birth in a stable, plays a significent role in the traditions in some regions. On Christmas Eve, straw is scattered on the floor and placed under the tablecloth for the Christmas Eve meal.
While the food varies in regions, you can always count on an extravagant array of desserts with countless cakes and cookies. Among them is Croatian Kuglof, walnut and poppy seed cake glazed with egg. Sometimes it is topped with a candle and a pine bough for the decoration.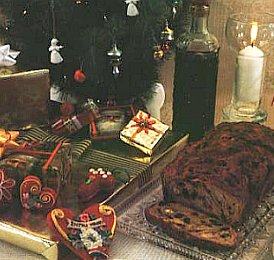 Christmas gifts do not play in important role in Croat traditions. In this country of nearly five million, 87% are Catholic and Christmas is regarded as a holy day more than a time for an exchange of gifts.
Prior to Christmas, St. Nicholas appears with a few gifts in some regions on his feast day (Dec. 6) while in other regions Saint Lucy distributes gifts to well-behaved children on her feast day (Dec. 13). Small gifts that may arrive on Christmas Eve are said to come from the Christ Child.