Chile runs down the southwest coast of South America, bordering the South Pacific Ocean and, in the southernmost part, touches the South Atlantic Ocean. Its neighbors are Argentina and Boliva to the east and Peru to the north.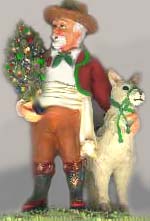 Chile's gift-bringer is called Viejo Pascuero, or Old Man Christmas. In some areas, he strongly resembles Santa Claus in a red and white outfit and likewise comes in a sleigh drawn by reindeer. However, as chimneys are less than roomy in this warm climate, he contents himself with climbing in a window. In other areas, Viejo Pascuero is seen as a local rancher and is often in the company of a llama.
Prior to Christmas, Catholics observe a novena or nine day period of prayer and spiritual preparation.
As in all Latin America, the manger scene is the center of festivities; and following the midnight Mass of the Rooster, the Christmas Eve meal often includes azuela de ave, a chicken soup filled with potatoes, onions and corn on the cob; and Pan de Pasqua, a Christmas bread filled with candied fruit. After the meal, presents are exchanged and the children are put to bed while the adults continue to celebrate.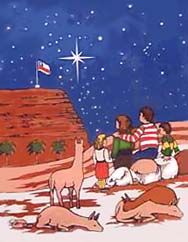 The meal on Christmas Day usually includes turkey, seafood, and freshly grown vegetables and salads (it's summer in December) along with Chilean wine for which the country is famous.

Music: Campana Sobre Campana


---
© 2002 by W. C. Egan
---