Christmas in Australia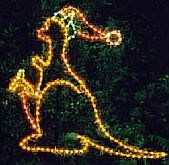 Christmas in Australia takes place in the heat of summer since the country is located in the Southern Hemisphere.
Many Australians still look to their British roots at this special time of year and a traditional Christmas meal usually includes a turkey dinner, sometimes with ham. Often a flaming Christmas plum pudding is added for dessert or else a special Australian meringue confection, Pavlova -- adorned with kiwifruit and passionfruit.
Some Australians and particularly tourists have their Christmas dinner (midday) on a local beach. Bondi Beach in Sydney's Eastern Suburbs attracts thousands of people on December 25th. Other families enjoy their day on a picnic. If they are at home, the day may be punctuated by swimming in the pool, playing Cricket in the backyard, and other outdoor activities beneath swaying palms.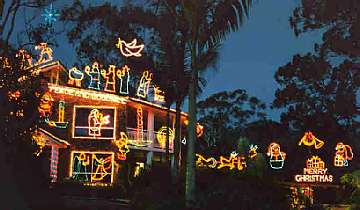 In Sydney, an interdenominational carols and scripture service is conducted at St. Mary's Cathedral. Hundreds of singers from dozens of church choirs file into the cathedral singing "Adeste Fideles" to open the annual event.
Carols by Candlelight is one tradition that is purely Australian. It began on Christmas Eve in Melbourne in 1937 and is now an annual event in the days leading up to Christmas in cities and towns all across the nation.
Tens of thousands gather for carols at Sydney's Domain. There is a warmth and spirit of friendship unequaled at Christmas celebrations in many other countries. For the final selection, everyone holds up their candles and joins hands to sing "Let There Be Peace On Earth And Let It Begin With Me" --- a never-to-be-forgotten experience!
Throughout Australia, there are beautiful flowers available for holiday decorating. In some areas, the jacaranda blossoms are in full bloom in December and Australians surround themselves with Christmas Bush, a native plant which has small red flowered leaves.
Christmas shopping is often done in shorts and t-shirts and the days following Christmas are filled with neighborhood backyard parties and barbecues.
In recent years, some residents long for a wintry setting for a Christmas celebration. This longing has developed into a Christmas in June or Christmas in July tradition. People head up into the cool mountains for a campout where they sing carols around a campfire. In most areas, no specific date is set for the occasion. It depends on when they can get a few days off work or school in their mid-winter season.
Song: Let There Be Peace On Earth