Christmas in Argentina
by Bill Egan, Christmas Historian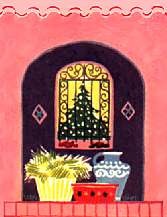 Argentina is located at the southern tip of South America, bordering the South Atlantic Ocean, between Chile and Uruguay.
During the month of December, Argentineans drink iced beverages and stay in air-conditioned spaces to help keep cool. In some homes evergreen trees are decorated with cotton to simulate the snow found on the trees in the forests of the Northern Hemisphere.
Christmas dinner in Argentina may be served in a garden area. A suckling pig or a roast peacock jauntily decorated with some of its own brilliant plumage ma occupy the center of the dining table. Niños envuettas is another favorite dish. It is made of steak cut in pieces three inches square, stuffed with minced mean mixed with onions, hard-boiled eggs, and spices. The meat is shaped in rolls, browned, and baked or simmered until tender.
Religious services take up much of the day on Christmas in Argentina. Carols may be sung by groups going from house to house or by the family gathered around a piano.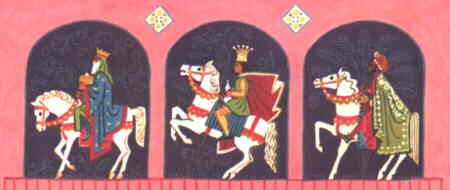 On the eve of January 6th, children in Argentina place their shoes underneath the Christmas tree or beside their beds. They leave hay and water outside the house so the horses of the Magi who bring them their gifts will have a meal as they journey toward the Christ Child in Bethlehem.
Song: Huachi Torito


---
© 1999-2005 by W. C. Egan
---